2 Ward and Smith Attorneys Named 2022 "IP Stars"
June 7, 2022
Ward and Smith, P.A.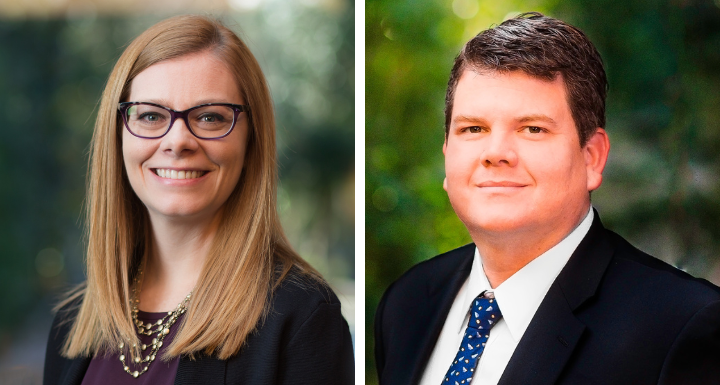 Managing IP is recognizing two Ward and Smith attorneys as top intellectual property practitioners.
Angela Doughty and Ryan Simmons were ranked in the 2022 edition of "IP Stars," an annual legal directory recognizing the world's leading IP firms and attorneys. Angela was named a 'Trade Mark Star' while Ryan also received that distinction, along with being recognized as a 'Patent Star.'
The "IP Stars" is an exclusive rankings publication that covers contentious and non-contentious IP work in more than 80 jurisdictions. Inclusion is based on merit and endorsements by peers and clients. For more information on the methodology, click here.
Angela is a North Carolina State Bar Board Specialist in Trademark Law and a Certified Information Privacy Professional/United States (CIPP/US) who also serves as the firm's Director of Legal Innovation. In her IP practice, Angela routinely counsels and assists clients with identifying, protecting, enforcing, and managing their U.S. and international IP rights; trademark and service mark selection, clearance, and registration; opposition and cancellation proceedings before the U.S. Patent and Trademark Office; Internet and domain law issues; software development and licensing transactions; and negotiating the acquisition, licensing, and transfer of intellectual property rights. She has extensive experience with strategic planning and management of IP portfolios, including IP audits to assist clients with the identification of intellectual property assets and the related risks and opportunities.
Ryan's practice encompasses a wide range of intellectual property ("IP") matters, including patents, trademarks, copyrights, and trade secrets. He supports and negotiates IP issues, including licensing and non-disclosure agreements and IP-related terms and conditions in various other types of agreements, such as joint development, manufacturing, service, and sales agreements. He is a registered patent attorney and has significant experience with preparing, filing, and prosecuting patent applications in a broad range of technologies, including electronics, computer hardware and software, medical devices, and general mechanical technologies.