View All Law Firms

Graves, Dougherty, Hearon & Moody, P.C.
Texas, United States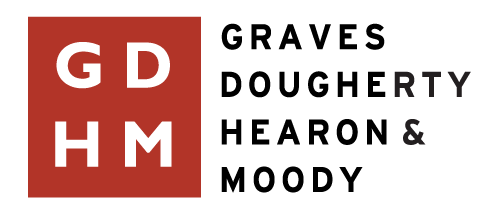 Graves, Dougherty, Hearon & Moody is an Austin, Texas-based law firm with more than 30 attorneys focused on delivering results that make a positive difference for clients and the community.
Founded in 1946, the firm was established on the principles of hiring great people, practicing first-class law and focusing on accomplishing clients' goals.
Our practices include Litigation, Real Estate, Creditors' Remedies, Estate Planning, Tax, Technology, Intellectual Property and Environmental.
The firm hires only the best people, and is committed to finding effective and innovative legal strategies that will ensure that your needs are not only met, but exceeded. Graves Dougherty's attorneys include former state and federal prosecutors, a former U.S. Department of Justice Assistant Attorney General, a former general counsel to the Texas Governor and a former member of the U.S. Solicitor General's Office.
The 2019 edition of The Best Lawyers in America® — widely regarded as the definitive guide to legal excellence in the United States— includes 18 attorneys from Graves Dougherty. Shareholder Mike McKetta was named in 2004 to the highly respected American Law Institute American Bar Association Committee on Professional Education. In 2006, McKetta was asked to serve on the Executive Committee, which is the governing body of the American Law Institute.
At Graves Dougherty, we recognize that our greatest achievements result from our clients' willingness to entrust important matters to us. We take this commitment seriously, striving to serve our clients in the manner that best fits their needs. We represent a wide range of clients including some of Texas' largest companies and major national companies, as well as smaller businesses, organizations, individuals and families.
Graves Dougherty is committed to serving the community that has sustained its success for more than sixty years. The firm serves through numerous pro bono and non profit activities and has been recognized as the Central Texas leader in pro bono service. Graves Dougherty works on many cases representing indigent clients from Volunteer Legal Services of Central Texas, and in 2008, the firm was honored by Volunteer Legal Services for its outstanding commitment to pro bono legal services.
At Graves Dougherty, we believe that the practice of law is both a profession and a vocation. We are dedicated to our clients, our community and to the highest principles of law and justice, and we strive to provide creative, timely, and effective advice and counsel.
Practice Areas
Litigation
The largest section of our firm, our litigation lawyers bring broad and diverse experience to the representation of clients in all types of general litigation and complex business litigation. We represent both plaintiffs and defendants before federal and state courts in Texas and other states, before all major Texas regulatory agencies, and before various domestic and international arbitration forums. We handle matters ranging from complex litigation requiring large trial teams headed by bet-the-company lawyers to smaller disputes that individual litigators are eager to give the proper attention. Our practice frequently includes one-of-a-kind matters in a wide variety of areas including employment, insurance, securities and investments, electric power, telephone and internet services, real estate, building construction, electronics, intellectual property, professional malpractice, special corporate investigations, government regulation, tax liability, and other areas. The firm has an extensive appellate practice as well, with current cases in eight of the state's fourteen appellate districts, the Texas Supreme Court and the Fifth Circuit.
Administrative & Regulatory Litigation
The firm is actively involved in cutting?edge issues stemming from competition in the electric and telecommunications markets, as well as current developments in areas including water, oil & gas, environmental issues and taxation. We have a wide-ranging insurance regulatory litigation practice, with particular concentrations in homeowners', automobile and workers' compensation insurance, at the Texas Department of Insurance, the State Office of Administrative Hearings, and in court. The firm has extensive experience in rulemakings, declaratory judgment actions, contested cases, and appeals of agency decisions as well as an active statewide trial and appellate insurance practice addressing extra-contractual, class actions, and specialty matters.
Banking & Finance
We represent lenders and borrowers in a variety of commercial finance and lending transactions. Our practice includes: revolving, term and other commercial lending facilities; receivables financing, equipment leasing, sale and lease-back arrangements, letters of credit, technology/emerging growth company financing, real estate development financing, and multi-creditor facilities.
Creditors' Remedies
The Creditors' Remedies Practice Group at Graves Dougherty combines the expertise of bankruptcy practitioners, civil litigators and real estate foreclosure practitioners who have represented creditors, debtors, equity security holders and other parties in interest for more than 25 years, with the savvy of long-time banking, finance and securities lawyers who know the economic ups and downs of multiple industries.
Commercial and Technology Transactions
The firm represents developers, manufacturers, and service provider firms. We are experienced in structuring and negotiating enterprise-critical relationships with suppliers, distributors, sales representatives and customers, including major business process and information technology outsourcing agreements, technology and software licensing, e-commerce, co-development, co-marketing and OEM and product distribution agreements.
Mergers & Acquisitions
We have negotiated merger and acquisition transactions involving companies in wide range of industries. We work with clients and their financial advisers through every stage of an acquisition, divestiture, reorganization or other extraordinary corporate event.
Tax Exempt/Non-Profit Organizations
An important part of our practice involves the representation of tax-exempt organizations, including not-for-profit hospitals, universities and foundations.
Estate Planning, Tax & Probate
We have two attorneys who are Board Certified in Estate Planning and Probate Law by the Texas Board of Legal Specialization. The firm's attorneys represent several generations of experience and have expertise in a variety of areas, enabling us to closely match their specialized knowledge with the specific needs of our clients.
Federal, State and Local Tax Planning & Controversy
Our federal work includes taxation of C Corporations, S Corporations, partnerships and LLCs and their shareholders, partners and members, disregarded entities, choice of entity, Section 1031 Like-Kind Exchanges, Tax-Free Reorganizations, employment taxes, employee vs. independent contractor tax issues, representation of taxpayers in IRS audits, and tax-exempt organizations. We have experience in aspects of state and local tax planning and controversy, including: Texas Franchise or "Margin" Tax, property tax, sales & use taxes, representation before Appraisal Districts and Appraisal Review Boards, and representation before Texas Comptroller of Public Accounts. We provide advice and conduct due diligence related to corporate transactions, assist with voluntary disclosure agreements, structuring transactions, including qualification for tax exemptions, and advise clients regarding proposed legislation.
Internet and Information Security
Our practice includes libel, privacy and wiretapping laws applicable to computers, electronic communications, and the Internet. Pete Kennedy served as lead counsel in the landmark electronic civil liberties case, Steve Jackson Games v. U.S. Secret Service.
Media, First Amendment and Public Access
Graves Dougherty lawyers are listed in Best Lawyers in America® as experts in First Amendment law. Graves Dougherty lawyers have represented clients on issues affecting First Amendment rights, especially the law of libel, privacy, incitement and the public's right of access to courtrooms, government documents and meetings. Our clients include daily newspapers, local and national broadcasters, magazines, book publishers, film studios and Internet publishers of all sorts.
Natural Resources: Oil, Gas & Water
The firm's natural resources section deals with all aspects of the development of oil, gas and other minerals – leasing, production, regulation, environmental issues, taxation, and pipeline and other transportation – and also with water law issues and major water rights litigation. The firm regularly represents independent energy companies and families with productive oil and gas acreage, and has been involved in numerous lawsuits with respect to natural resources as well as many significant decisions of the Texas Railroad Commission on oil and gas law.
Real Estate: Acquisition, Financing & Development
The firm's real estate attorneys represent residential and commercial developers from land acquisition through permitting and entitlements issues, construction contracting and sales.