These news items will help keep you informed on activities of the Law Firm Alliance, its member firms and the areas and industries in which they offer legal services.
May 22, 2019
Kane Russell Coleman Logan has hired prominent OSHA defense attorney, Darren S. Harrington, to join the Firm's employment group in Dallas. Harrington will expand the firm's employment litigation section to meet the increasing demand for experienced representation in OSHA and other high stakes employment matters.
View Details
May 14, 2019
Lucinda (Lucy) E. Main, Estates and Trusts Lawyer, Beard Winter LLP
View Details
May 14, 2019
David A. Decker, Commercial Litigation Lawyer, Beard Winter LLP
View Details
April 17, 2019
Texas-based law firm Kane Russell Coleman Logan is moving to new 45,000 square foot headquarters in Dallas' iconic Bank of America Plaza.
View Details
April 15, 2019
Sands Anderson PC, Sands Anderson PC
At the Spring 2019 Local Government Attorneys of Virginia (LGA) conference in Norfolk, Virginia, attorneys of the Sands Anderson Government Group were recognized among a group of attorneys as recipients of the LGA Special Projects Award for their contributions to the Eighth Edition of the Virginia County Supervisors Manual published by Virgina Association of Counties (VACo).
View Details
April 9, 2019
Sands Anderson PC, Sands Anderson PC
View Details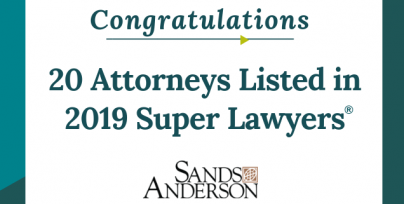 March 20, 2019
Moving up a few floors in Frost Tower, adding new attorneys signals change, growth
View Details